Featured Exhibits

Expedition Ice Age: The Past Becomes Alive! Mammoths, Mastodons, Giant Sloths, and Saber-toothed Cats! Come see an amazing collection of real fossils and exquisite museum replicas.

Excavated by the Museum's paleontologists the majority
of Cheryll's bones are the real thing! Come see the only actual dinosaur skeleton available for viewing in southern Florida.
Upcoming Lectures, Workshops, and Special Events

Archaeology Lecture

Friday, 7:00 to 9:00 PM, February 1, 2019
The Archaeology of Central Mexico:
Its Ancient Civilization and Architecture
Eric Slazyk
President
The Institute of Maya Studies
Archaeology Workshop

Saturday, 2:00 to 4:00 PM, February 23, 2019
Learn to identify and sort pottery, bone, shell, and lithic specimens and artifacts excavated from actual archaeological sites in southern Florida. No experience is necessary. This is real archaeology, come get your hands dirty! (limit age 16 and above)
Archaeology Lecture

Friday, 7:00 to 9:00 PM, March 1, 2019
Putting Together the Pieces of Libarna:
The Excavation of a Roman Slave Colony​
Dr. Hannah Friedman
Assistant Professor of Roman Archaeology
Texas Tech University
Sponsored by
The Archaeological Institute of America
South Florida Chapter
ArchaeoFest 2019

Sunday, 12:00 to 5:00 PM, March 31, 2019
Join us for a day long special event celebrating
Florida Archaeology Month
Featuring archaeological exhibits, lectures, living history demonstration, and hands-on workshop
Co-Sponsored by
The Palm Beach County Archaeological Society
and
The Broward County Archaeological Society
On the National Geographic Channel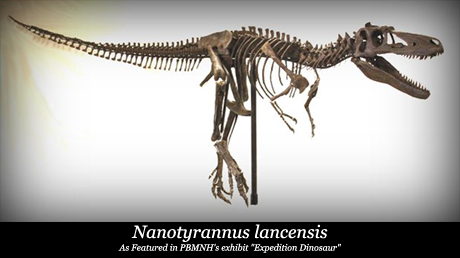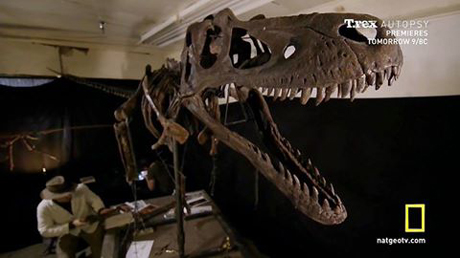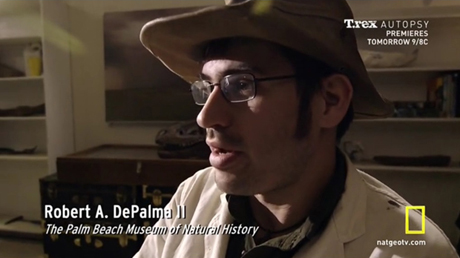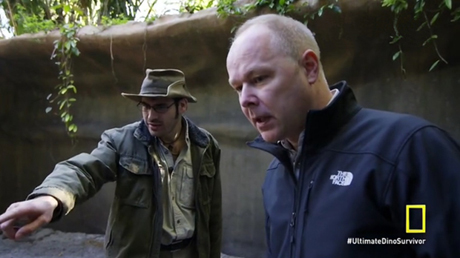 Robert DePalma and Dr. Phil Manning
National Geographic Channel
"Dino Death Match" and "Ultimate Dino Survivor"

"Dino Death Match"

Watch the latest episode of the National Geographic Channel

With commentary by PBMNH Curator of Paleontology
Robert DePalma

Does the recently discovered and controversial "Dueling Dinosaurs" fossil provide proof of the validity of Nanotyrannus as a species vs classification as a juvenile T. rex? Without a doubt according to Robert and his colleagues Dr. Robert Bakker of the Houston Museum of Natural History and Pete Larson of the Black Hills Institute.

Nanotyrannus is the rarest and most enigmatic of the Late Cretaceous tyrannosaurids. Its sleek build, smaller size, and powerful legs made it an exceptionally agile and lethal predator. "Tara" is one of only three of her kind yet discovered, and is the only fully mounted skeleton of this fascinating dinosaur.

Check out some teaser information and gallery images on Nat Geo's website: http://natgeotv.com/in/ dino-death-match