Welcome to our new website!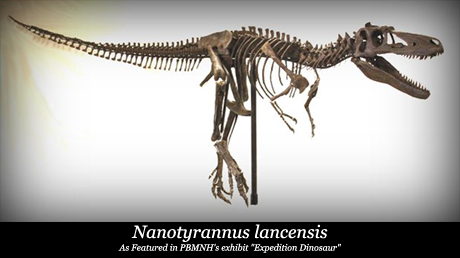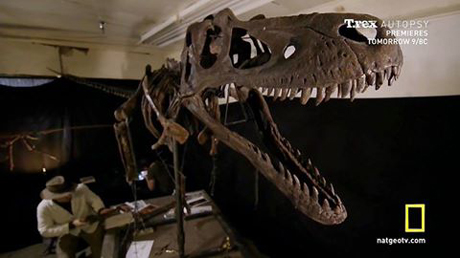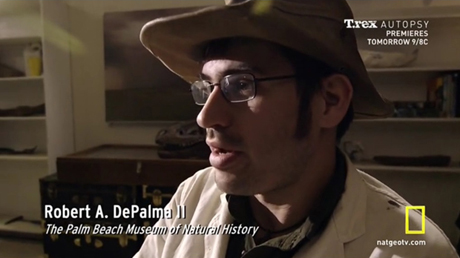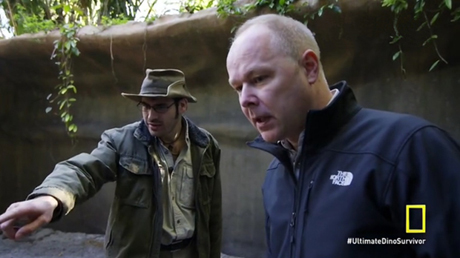 Robert DePalma and Dr. Phil Manning
National Geographic Channel
"Dino Death Match" and "Ultimate Dino Survivor"

"Dino Death Match"

Watch the latest episode of the National Geographic Channel

With commentary by PBMNH Curator of Paleontology
Robert DePalma

Does the recently discovered and controversial "Dueling Dinosaurs" fossil provide proof of the validity of Nanotyrannus as a species vs classification as a juvenile T. rex? Without a doubt according to Robert and his colleagues Dr. Robert Bakker of the Houston Museum of Natural History and Pete Larson of the Black Hills Institute.

Nanotyrannus is the rarest and most enigmatic of the Late Cretaceous tyrannosaurids. Its sleek build, smaller size, and powerful legs made it an exceptionally agile and lethal predator. "Tara" is one of only three of her kind yet discovered, and is the only fully mounted skeleton of this fascinating dinosaur.

Check out some teaser information and gallery images on Nat Geo's website: http://natgeotv.com/in/ dino-death-match


Free Archaeology Lecture

Broward Moments Lecture Series

Broward's Early Residents: Native Americans and How They Lived in the Glades

Broward Moments Lecture Series addresses significant moments in the County's 100 years history that have contributed to the rich culture, creative vitality, and economic growth of the area.
The lecture series provides an opportunity for long-time residents and newcomers to learn about Broward's history; illustrate how that history has impacted the current state of affairs in the County; it engages audiences in discussions that will contribute to a shared sense of community going forward.

Presented by Paul J. Callsen, Archaeologist and Anthropologist, this lecture focuses on early Native Americans living in and cultivating the Everglades and the lasting impact their culture had on the area.
​
When: Tuesday, August 11th, 6pm
​
Where: Stirling Road Branch Library
3151 Stirling Road,
Fort Lauderdale, FL 33312
​
Admission: Free

Current Traveling Exhibits
Now Showing at the Plantation Historical Museum
​
511 North Fig Tree Lane, Plantation, FL
(954) 797-2722
Tuesday: 10 a.m. - 12 p.m. & 1 - 4:30 p.m.
Thursday: 10 a.m. - 12 p.m. & 1 - 7 p.m.
Friday: 12 p.m. - 4:30 p.m.
Saturday: 10 a.m. -12 p.m. and 1 - 5 p.m.
Admission: Free