June Archaeology Lectures and Workshops

The Broward County Archaeology Society Lecture

Museum Archaeology Workshop

The Archaeology of Florida

What is it like to be an archaeologist?
Join us for our hand-on workshop

Tuesday, June 26, 2018, 6:30 PM - 8:00 PM

Saturday, June 30, 2018, 2:00 PM to 4:00 PM

Broward West Regional Library
8601 W Broward Blvd., Room 230, Plantation FL 33324
(954) 765-1560

The Mall at Wellington Green
10300 Forest Hill Blvd., Suite 172, Wellington FL 33414
(561) 729-4246

The Palm Beach Museum of Natural History

at

The Mall at Wellington Green

10300 Forest Hill Blvd #172, Wellington, FL 33414

Monday - Thursday 2:30 PM to 7:30 PM
Friday - Saturday 11:30 AM to 7:30 PM
Sunday 12:00 PM to 6:00 PM


Check Back for upcoming Special Events, Lectures, Classes, Workshops, and Family Days
And Follow the Museum on Facebook!

Group Scheduling 10:00 AM to 11:30 AM, Monday to Friday
Call (561) 729-4246 for Reservations


Now on Exhibit!

Expedition Ice Age: The Past Becomes Alive!
The Lawrence E. Will Museum of the Glades
530 South Main St., Belle Glade, FL 33430
Wedensday to Saturday, 10 am to 4 pm

Expedition Ice Age: The Past Becomes Alive! Mammoths, Mastodons, Giant Sloths, and Saber-toothed Cats! Come see an amazing collection of real fossils and exquisite museum replicas.

On the National Geographic Channel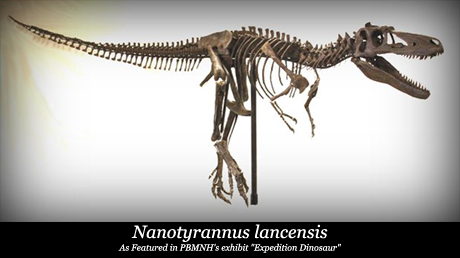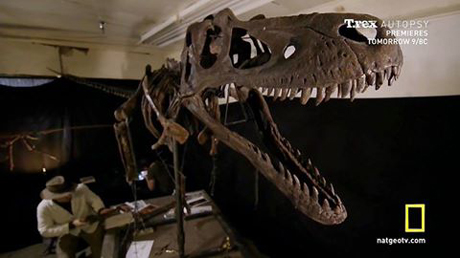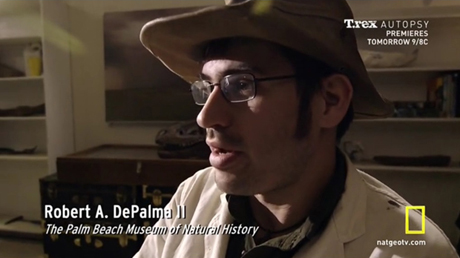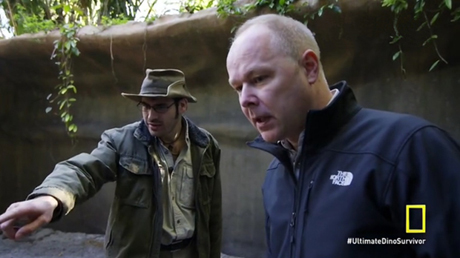 Robert DePalma and Dr. Phil Manning
National Geographic Channel
"Dino Death Match" and "Ultimate Dino Survivor"

"Dino Death Match"

Watch the latest episode of the National Geographic Channel

With commentary by PBMNH Curator of Paleontology
Robert DePalma

Does the recently discovered and controversial "Dueling Dinosaurs" fossil provide proof of the validity of Nanotyrannus as a species vs classification as a juvenile T. rex? Without a doubt according to Robert and his colleagues Dr. Robert Bakker of the Houston Museum of Natural History and Pete Larson of the Black Hills Institute.

Nanotyrannus is the rarest and most enigmatic of the Late Cretaceous tyrannosaurids. Its sleek build, smaller size, and powerful legs made it an exceptionally agile and lethal predator. "Tara" is one of only three of her kind yet discovered, and is the only fully mounted skeleton of this fascinating dinosaur.

Check out some teaser information and gallery images on Nat Geo's website: http://natgeotv.com/in/ dino-death-match


Current Traveling Exhibits
"Cheryll the Triceratops" and "Expedition Ice Age"

"Cheryll" is an actual dinosaur fossil excavated in 2005 by the Museum's paleontology team. "Expedition Ice Age" offers a view of Florida's past 10,000 years ago and includes both real fossils and replica skulls of the American lion, giant sloth, and others.
​
Plantation Historical Museum
511 N. Fig Tree Ln., Plantation FL 33317
(954) 797-2722

Tuesday: 10 a.m. - 4:30 p.m.
Thursday: 10 a.m. - 4:30 p.m.
Friday: 10 a.m. - 4:30 p.m.
Saturday: 10 a.m. - 4:30 p.m.

Closed for lunch 12 noon to 1:00 p.m.
Tours by appointment Tues. and Thurs. until 3:30 p.m.
Paleo-Parkland: The Margate-Blount Archaeological Site

Presenting original artifacts and the story behind the discover and excavation of one of southern Florida's most significant archaeological sites. Also on view is a full size life-replica of Smilodon fatalis, the famed saber-toothed cat.

Parkland City Library
6620 N. University Dr., Parkland FL 33067
(954) 757-4200

Monday to Thursday: 10:00 AM to 7:30 PM Friday
Saturday: 10:00 to 5:00 PM
Closed Sunday